August 31st, 2006
Feminism began as a mass movement in the late 1960s; and during that time, very few women made conceptual art. Feminism functioned like a separatist movement, so perhaps its not surprising that feminist artists tried to establish a recognition for themselves. An example,
Shigeko Kubota born in Niigata, Japan in 1937.
– graduated with a degree in sculpture from Tokyo University.
– she moved to New York where she studied at New York University and the New School for Social Research.
– Her works were mostly inspired by Duchamp.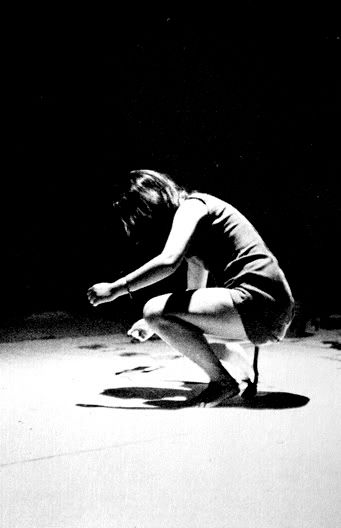 She attached a paint brush to her underwear.
The paint used was a menstrual red.
Kubota took her body and turned it into an active tool.
This is especially significant because the female body is traditionally an object in art. Kubota takes her body beyond object and beyond subject. Her body becomes the actually instrument of creation. And the fact that this is centered around her vagina is not an accident. Kubota is speaking about creation, fertility, and female control and also counter-pointing the work of Yves Klein and Jackson Pollack.